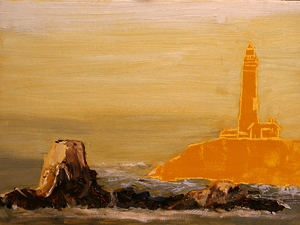 It's been awhile, but we had the holidays to get through. This is work by one of my students, Jim. This is his first seascape. As you can see, he tones his canvas with yellow ochre and has laid in much of his darks. I am very pleased with this one, so far, and have great expectations of the finished work.
I have had several people ask for art lessons online and have the ability to produce a video. I would be interested in some feedback from some of you who might be interested in something like this. I was thinking of basic drawing in perhaps eight sessions. I can't stress enough how important I think the basics are. It's like learning the scale in music--so critical.
I have watched tv shows where the artist is simply demonstrating and it's very difficult to keep up if you are trying to draw along. I can enlist a student or two in my area who could participate in order to allow some time for the student to work after my demonstration. I'm thinking of a simple download. I'd like to know what you would expect to pay for the entire series and if you'd like the format to include the student or whether you'd prefer just my demonstration. I could also include some written materials you would be able to print out for future reference.
Feedback from artists would also be appreciated.